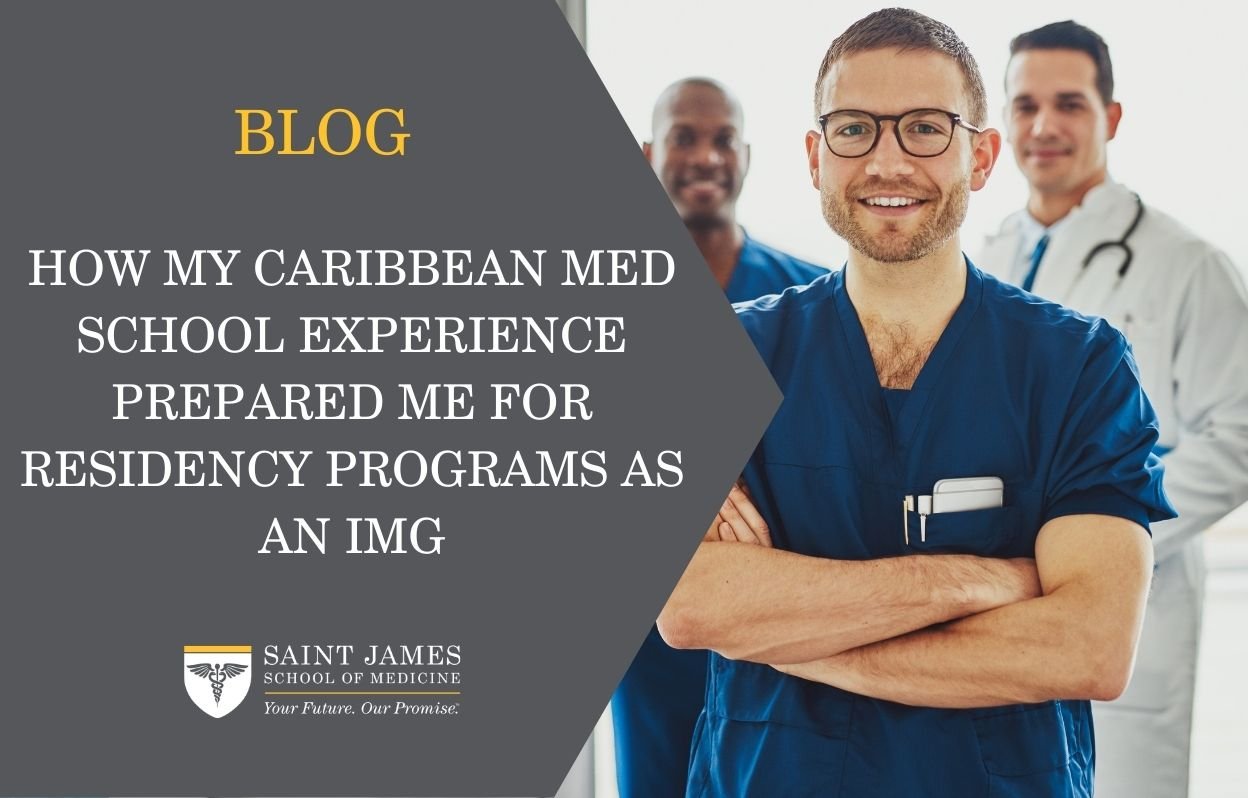 A medical career can be challenging, but how about building your career as a surgeon while simultaneously adapting to a new culture? International medical graduates (IMG) are residents and fellows practicing in the U.S. and Canada who received their med school educations abroad. Today, 25% of licensed U.S. doctors are IMGs, and the American Medical Association says that IMGs are changing the face of American medicine.
Dr. Robert Kimmel, a distinguished Saint James School of Medicine alumnus and an IMG, discusses his experiences working in the United States.
Introducing Dr. Robert Kimmel
We proudly introduce Dr. Robert Kimmel, a plastic surgery resident at the University of Tennessee in Chattanooga. Although Kimmel is a United States citizen from Pennsylvania, he studied medicine at the Saint James School of Medicine before returning to the United States to practice medicine.
Preparing for Residency Programs
Some prospective medical students worry that if they graduate from a school in the Caribbean, they will be at a disadvantage in the application process for fellowships and slots in residency programs.
Life at Saint James med school includes studying for midterms, finals, and block exams. Students spend twelve hours a day in class, training, or studying. However, that work can pay off, Kimmel says, because it is good preparation for the grueling U.S. Medical Licensing Exam and can help applicants get into residency programs that put their careers on the right track.
Plastic Surgery as a Specialization
After five years as a general surgical resident in what is now the Frank Netter School of Medicine at Quinnipiac University in Connecticut, Kimmel's match led him to a plastic surgery fellowship at the University of Tennessee Health Science Center. One of his motivations to continue into plastic surgery rather than becoming a board-certified general surgeon came from the clinical rotations.
Providing clinical care to patients who needed breast or facial reconstructions instilled a drive to put in the extra work and take on extra responsibility to earn a spot as a plastic surgery resident. Kimmel urges students, "Pursue the field you feel passionate about, even if it means taking the longer path."
What Kind of Salary Should I Expect?
The salaries that residency programs pay to med school graduates vary from place to place. In general, you can expect to make between $50,000 and $80,000, whether in a residency or fellowship program.
In recent years, inflation has posed a hurdle for graduates who struggle to get by on their salaries and repay student loans. However, studying and training as a med student does ultimately pay off. Kimmel advises that your skill and accomplishments in your post-graduate years, with some creativity and perseverance, could help you to land a good position.
A Paradigm Shift in the Rotation Matching Process
Matching students with programs before they graduate can be a source of stress. Many students wonder, "What if I go unmatched?"
Matching for surgical slots can be competitive, and programs often have a traditional mindset when evaluating applicants, Kimmel notes. Non-surgical programs have recently become more open-minded when considering IMGs and other less traditional applicants. Though some surgical programs are behind the curve, IMGs can now find more opportunities than they had in the past.
The Saint James School of Medicine Intrigued U.S. Med Students
In addition to concerns about bias against IMGs at the interview stage, many students worry that they will face discrimination or a loss of status because they graduated from a school in the Caribbean rather than a widely known medical school in the United States.
However, at The University of Tennessee, Kimmel's fellow residents expressed curiosity and interest in his Caribbean med school, saying that it "must have been awesome" and asked him many questions during his residency interview.
It often pays to have confidence in your medical educational experience. Focusing on the unique aspects of your medical school training and experience can set you apart from other applicants. Some residency programs actively seek out students from a variety of educational backgrounds.
Why Study at the Saint James School of Medicine?
The faculty at the Saint James School of Medicine helps students develop their interests and motivates every student to achieve their potential. The professors prepare students with the skills they need to provide quality patient care and progress confidently through their post-graduate years, residencies, fellowships, and beyond.
Anyone interested in the med school program at the Saint James School of Medicine, including students from the Caribbean, the U.S., Europe, and worldwide, should contact the school's admissions staff at 800-542-1553.