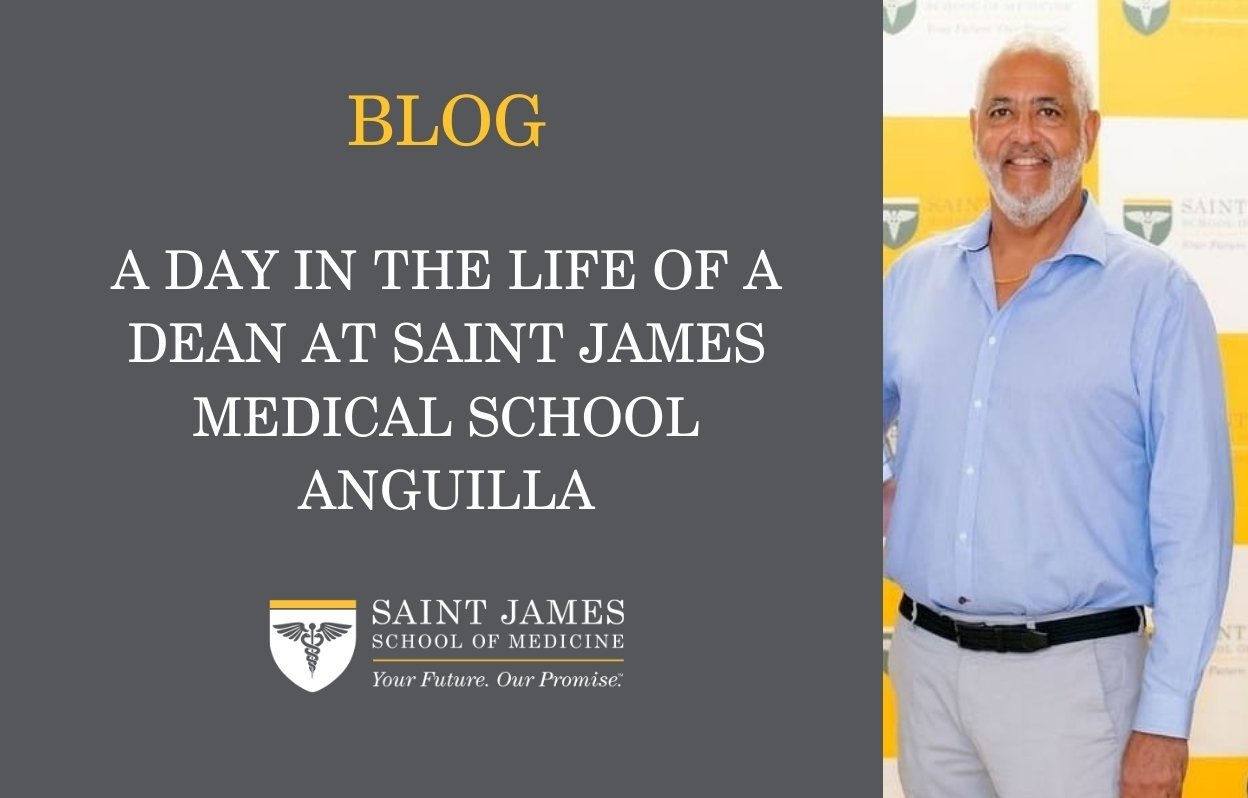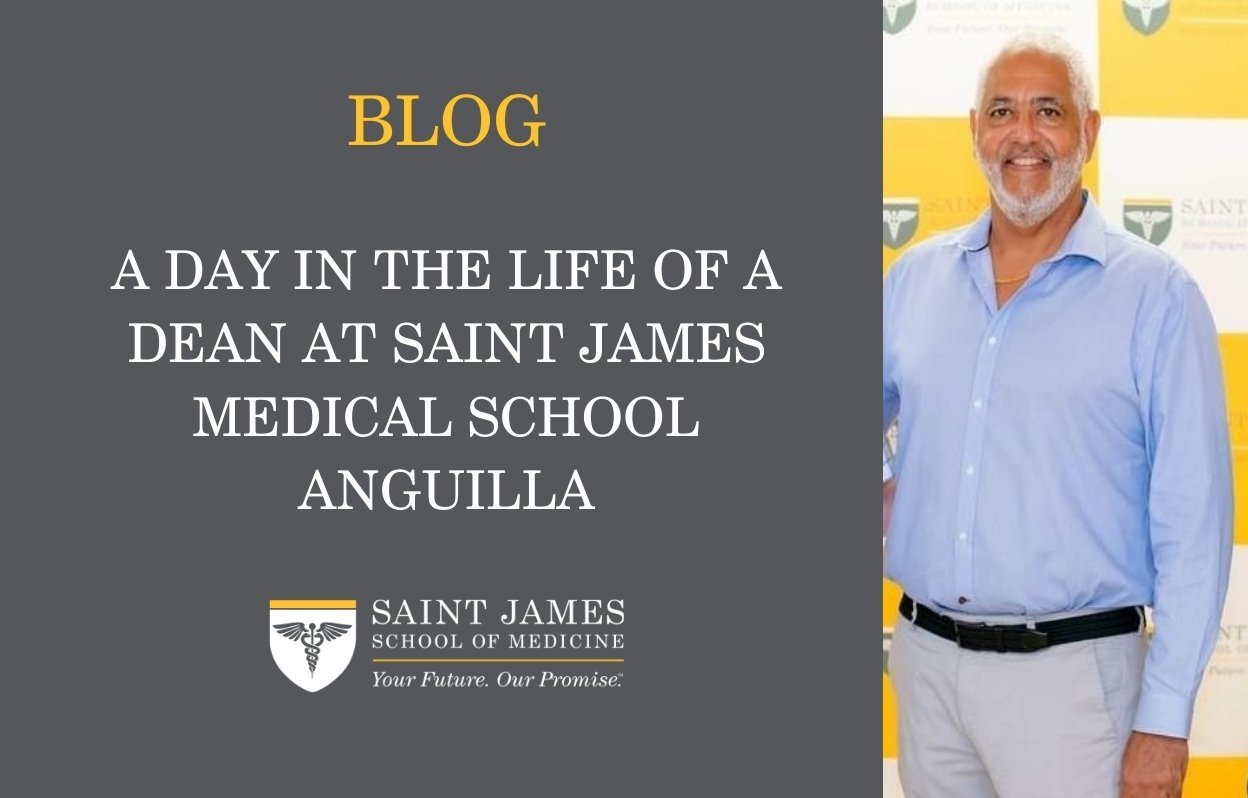 We wrapped up another insightful and exciting episode of our popular Med School Minutes Podcast about life, study, and what it is like becoming a doctor at Saint James Medical School of Medicine on the beautiful island of Anguilla. The previous episode featured a special guest, Dr. Claude B. Iliou, the Dean of Basic Sciences, who was kind enough to spare a few moments from his otherwise demanding schedule. This was a fantastic conversation that covered not only the unique background of one of our administrative leaders, but also insight into his perspective of education at SJSM.
A Little About Our Dean
Like a good portion of the student body at SJSM, Dr. Iliou is not originally from the islands. Born in Haiti, our Dean immediately recognized a powerful desire for science and math that led him to pursue a degree from the prestigious U.S.-based MIT (Massachusetts Institute of Technology) in Boston. After graduating, he found an urge to pursue medicine as opposed to pure science research and went to medical school at Howard University outside of Washington, D.C., specializing in anesthesiology.
Eventually, our Dean worked closely with clinics and patient support groups until the desire to teach became an undeniable force in his life. With more than 10 years of practice under his belt, Dr. Iliou began teaching across different medical schools. After the 2010 earthquake in Haiti brought him to the beautiful island of Anguilla, Dr. Iliou joined Saint James School of Medicine where he has remained since.
Between an early interest in Nutritional Sciences and Biochemistry, plus the opportunity to work at Mass General Hospital with a diverse patient client base, Dr. Iliou brings a wealth of experience, credentials, and education to SJSM.
What Do Dean's Duties Entail?
We learned a great deal about the scope of Dr. Iliou's duties at SJSM. Not only does he have one of the broadest educational specialties with numerous topics of study, but he also oversees the development and support of various professors. That is on top of thhiseir institutional duties for the college itself.
It is important to remember that means Dr. Iliou's attention must be split between the needs of the students, the needs of the professors, and the future of the institution. That is quite the level of responsibility. However, we were able to learn how Dr. Iliou maintains a relaxed atmosphere relying heavily on the importance of having a quality faculty to make the work easier. That is a fundamental reason so many international students come to the islands to study. There is an exceptional sense of supportive community that is fostered by the general public around the college, just as much as by Dr. Iliou and other administrators.
As our Dean also hires and oversees the workload of different faculty members, we heard about how Dr. Iliou looks for "competence in their subject, how well they get along with others, how they show professionalism, and if they have a good sense of humor." This is the type of balance that is common in the student body. People studying at SJSM are committed to succeeding in their career goals just as much as experiencing a rewarding higher education experience where future networking can be fostered in a warm and inviting environment.
Cultivating a Robust Student Body
While Dr. Iliou benefited from attending some of the most prestigious U.S. schools, our dedicated Dean also has hid roots in Haiti. This background enables him to understand the unique challenges of international students learning such as studying demanding subjects, often while facing languages and cultures that are not their own.
This diversity and ability to think outside the box is part of the foundation Dr. Iliou sees as a significant strength of SJSM. "We do not have cookie-cutter versions of each other. Every student brings something different, which is another important reason SJSM has grown in reputation year by year" said Dr. Iliou.
Whenever a student is preparing for exams, you can see the administration paying close attention to the success rate and the key factors leading up to those positive numbers. The administration is highly motivated to create an environment where every student is provided with everything needed to learn, grow, and thrive as they move toward entering full practice around the world as a licensed medical provider.
Download the Full Interview
We covered many more details in our podcast interview with Dr. Iliou, from staying connected with students they had taught 12 years ago, to comparing the medical profession in different regions of the world and even infrastructure concerns while practicing medicine.
It is through conversations like this that we continue to create more content for all of our listeners out there. Like our Dean, we believe strongly in cultivating a strong community of mutual support so that every student at SJSM has the best possible pathway towards success. The more we help each other now, the greater our network of friends, coworkers, students, teachers, and administrators, such as Dr. Iliou.
We could not be happier to have gotten this fantastic opportunity and wish to welcome Dr. Iliou back whenever it is possible. Maybe we can even sneak into one of our Dean's famous Sunday brunches with other esteemed guests!
Having insight from all angles of our college helps us better understand how well we are doing, where we can improve, and the bright future that is possible when pursuing the healthcare field here at Saint James School of Medicine in stunning Anguilla.
Thank you for listening, and be sure to download our latest episode for the full interview with Dean Dr. Ely wherever you manage your podcasts or directly at Buzz Sprout. Have a wonderful day!