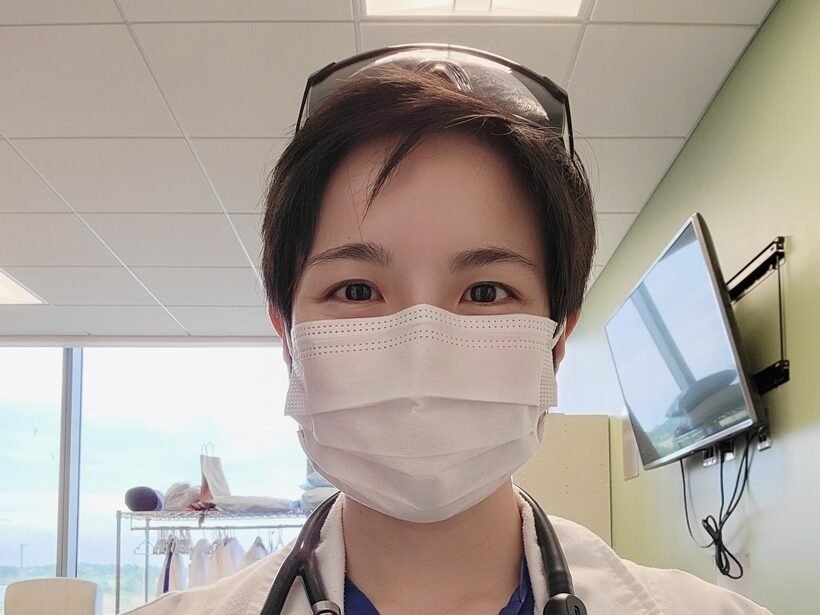 In every person's life, there comes a time that will define who they are and what they hope to accomplish going forward. For Dr. Joyce Cheng, that time came in March 2020 with the outbreak of the COVID-19 pandemic. We previously chatted with Dr. Cheng in 2018 as she was on the cusp of starting residency.
Growing up in California, Dr. Joyce Cheng enjoyed science and working in collaboration with others to help them whenever she could be of assistance. This interest solidified her thoughts of becoming a doctor after her grandfather passed away from stage four cancer. From then on, she has dedicated her time and efforts to diagnosing and managing all types of diseases and taking care of those around her.
Upon graduating from the University of California, Riverside with a degree in Biological Science, Dr. Cheng wanted the opportunity to pursue a career in medicine. She said "A family friend had attended Saint James School of Medicine and had a great experience." "The overall cost was also a huge factor when deciding to attend medical school, both in the Caribbean or in the States. With an MD from Saint James School of Medicine I was provided the opportunity to practice medicine in the states after I graduated."
Dr. Cheng graduated from Saint James School of Medicine in 2018 and was two years into her residency program in internal medicine at Mercy Health System-IL before the Covid-19 pandemic hit the nation. "It was an incredibly challenging time, but I am extremely grateful and blessed that most of the people around me were able to stay safe," said Dr. Cheng. She has focused her time on residency and continues to expand on her medical knowledge through hands-on experiences and mentorship opportunities.
"The pandemic has affected millions of people including myself and my family. I have encountered many sick patients and have also lost many of them unfortunately," said Dr. Cheng. "The pandemic has changed how we work and interact with one another on a day-to-day basis. It made me realize how important it is to focus more on preventative care, and health, as well as mental health awareness."
With that being said, Dr. Cheng has made the most of her residency program despite the disarray of the Covid-19 pandemic. From the first day of her residency, her attendings and fellow peers have shown her a great deal of support for an ever-changing profession. "I am constantly meeting different patients that present with a variety of symptoms, and I have gained valuable insights into new diseases and management/treatment," she said. "I am also working in an incredibly supportive environment with a group of wonderful peers, attendings, nurses, and staff." At the end of the day, she absolutely loves what she does and looks forward to becoming an internist. "My goal is to improve my patients' outcomes by focusing on preventative health, allocating resources, and patient education".
For students interested in a career in medicine, particularly at Saint James School of Medicine, Dr. Cheng's advice is, "Be dedicated and disciplined, work hard and take all the challenges one step at a time. You have all the resources you need to succeed, always ask for help and know that you are not alone. Lastly, be humble and always remember how we all first started in our journey of becoming a doctor."