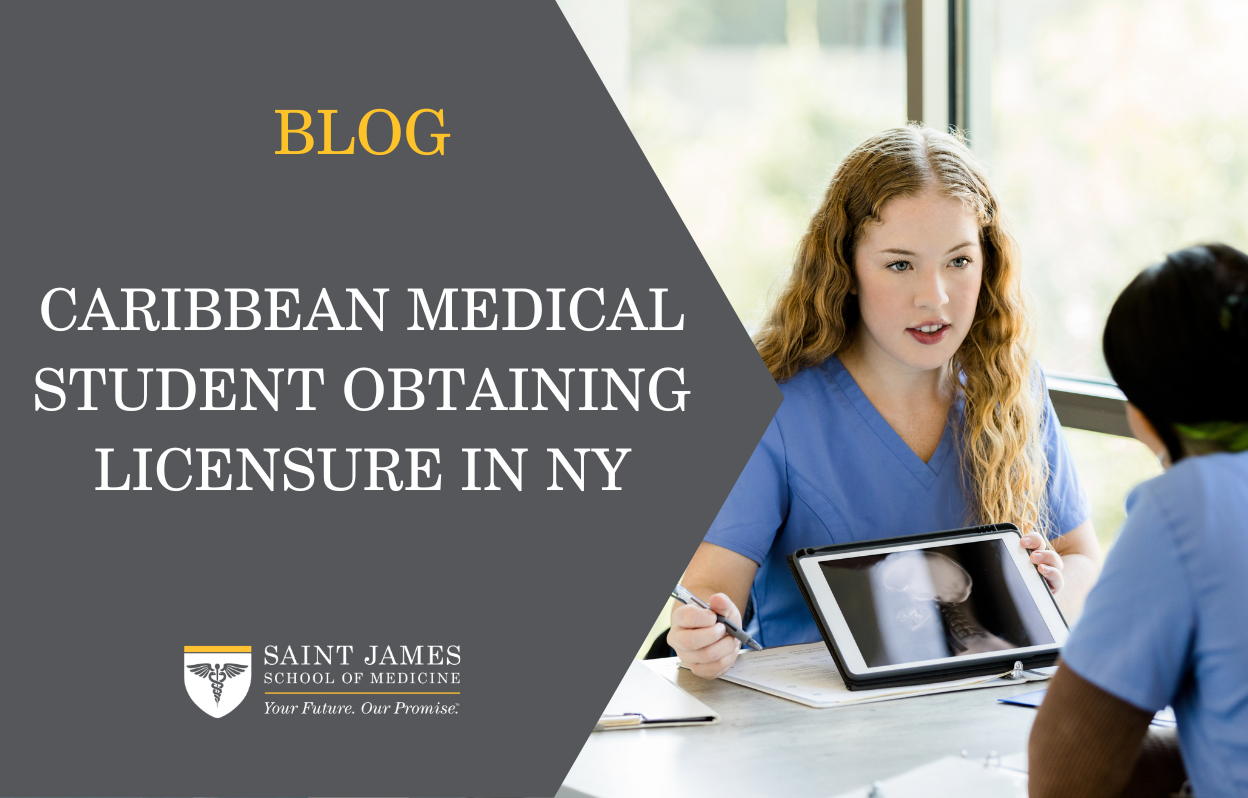 Are you considering applying for your residency in New York once you complete medical school at Saint James School of Medicine? If so, you must obtain a NY license to practice medicine from the state regulatory board before starting your residency.
Many international med students discount the possibility of pursuing their residency in New York because it is difficult to get a medical license. However, there is no reason to believe that your status as an IMG (international medical graduate) automatically precludes you from practicing in New York.
The first step in obtaining your New York state license is to apply for a residency program in the state. Once accepted, you will be required to get a New York state medical license to join your residency program.
Saint James School of Medicine
Choosing to study medicine at Saint James School of Medicine offers hardworking med students several advantages when they apply for a residency program, such as:
Accelerated, intensive programs: Our programs of study often condense a year's worth of instruction into a six-to-eight-month period. While the pace might be challenging, our med students often find that it prepares them better for the grueling realities of a New York residency program.
Extra preparatory materials: We provide students with extra primary materials that their U.S. counterparts typically lack. This includes informational, reference, and academic databases to supplement your coursework.
Visiting faculty programs: Saint James School of Medicine has a robust visiting faculty program, which sees practitioners from around the globe come to Anguilla to teach our students. Adding their expertise to the intensive instruction provided in our programs helps our med students to gain a broader understanding of U.S. medical theory and practice.
Matching for Residency
Contrary to popular belief, a surprisingly large proportion of U.S. residency program directors consider studying medicine at an international university an advantage. In fact, many program directors tend to prefer a 50-50 split between American and international residents for many reasons.
Diversity in Medical Knowledge and Experience
International medical school students have training and experience with conditions not commonly seen in America. For instance, medical students from Anguilla are more likely to have direct experience with diagnosing and treating illnesses like Zika and malaria than their U.S. colleagues.
Diversity in Socioeconomic and Cultural Background
Medical schools in the Caribbean can be significantly cheaper than in the U.S., allowing students from diverse social, cultural, and economic backgrounds to study medicine. Residency program directors in the United States actually prize this diversity because it allows for a more well-rounded approach to patient care.
Work Ethic
International medical students put in a lot of work when they join U.S. residency programs because they believe that they have to prove themselves to their American colleagues. Program directors notice the work ethic of IMGs and are eager to have them in their residency programs.
Getting your NY License
Once offered a residency position in New York, you will have to start the process of getting your NY state medical license. Getting your NY medical license typically takes six to eight weeks, but it can take up to four months or more. To improve your chances of receiving your medical license within a reasonable timeframe, follow this list of tips:
Start Preparing During Rotations
Network and keep in touch with supervisors and program directors after your rotations. When you apply for your license, they can help you finalize and submit the paperwork for your rotations, saving you a lot of time.
New York State Licensing Website
The New York State licensing website is an excellent, centralized source of information that lists all the forms you must submit. Remember that many of these forms appear in multiple formats, so make sure to pick the one that is most appropriate for you.
Be Patient
It's always a good idea to start the application process as early as possible, especially if you have limited your residency program search to New York. Some hospitals in New York will even allow you to start your residency without a license and perform limited tasks until you get it, primarily if you are already licensed in another state.
The bottom line is that being an IMG does not automatically preclude you from practicing medicine in New York. On the contrary, having an international medical school background from an accredited institution like Saint James School of Medicine can bolster the chances of medical students who want to do their residency and work in New York. As long as you work hard and are passionate about what you do, there's no reason you can't land a residency in New York and a license to practice in the state. Please remember that our team is here to support you every step of the way with your residency application. For more information about the recent student success in residency, please visit www.sjsm.org/residency-data