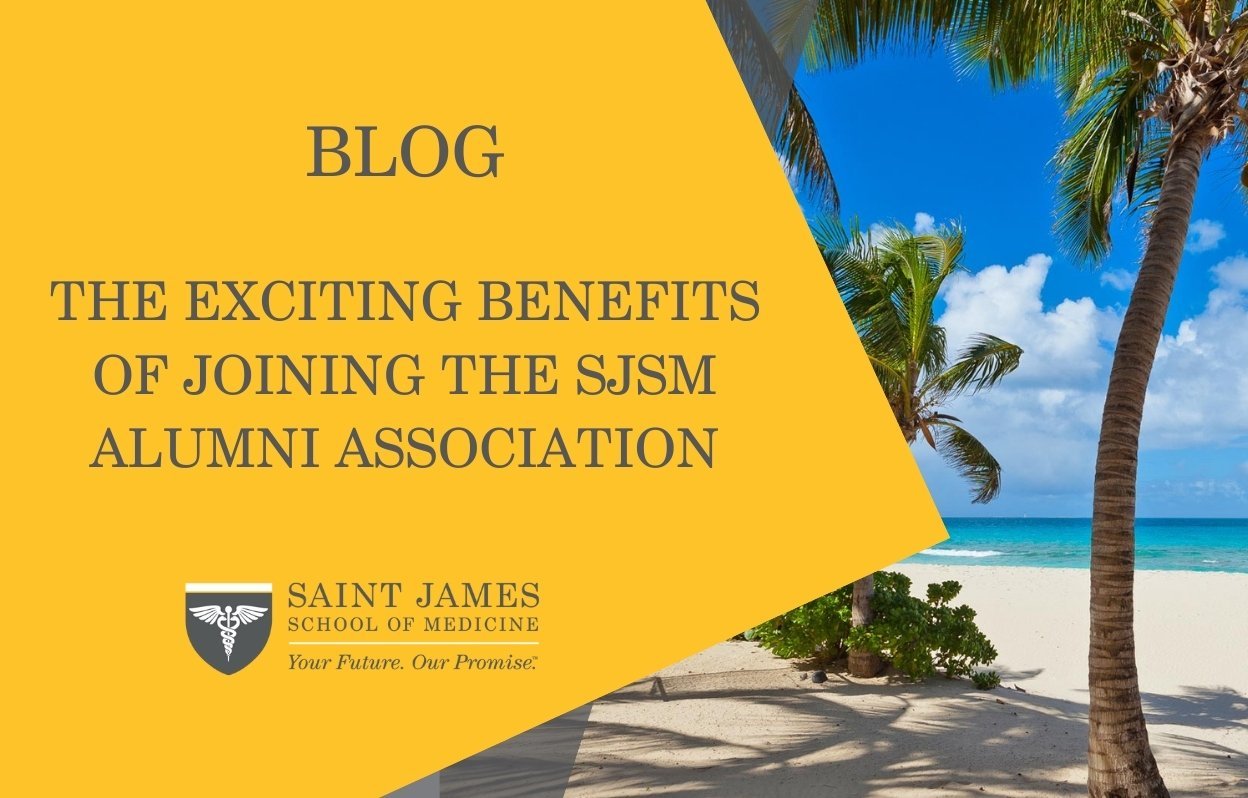 Saint James School of Medicine (SJSM) has remained one of the top Caribbean-based medical schools for years. As more and more students graduate from this highly regarded institution, the opportunities to enter the workforce with a leg up from the connections and relationships built over time are only elevated by joining the SJSM Alumni Association. This will allow you to reconnect with valued friends and mentors and provide the opportunity to give back to a program that accelerated your career. Some other benefits include:
Continuing Education
Alumni associations often have partnerships with entities that provide continuing medical education opportunities. The Saint James School of Medicine Alumni Association is no exception. As a member, you'll be invited to participate in the SJSM sponsored CME programs through partner companies. You'll also qualify for scholarships from the association that can be used toward an additional degree in medicine or a related field.
Networking Opportunities
One of the most important benefits of joining the SJSM Alumni Association is that it provides an opportunity to meet other alumni. The Alumni Association hosts exclusive events for its members. These events allow you to network with other doctors, faculty, students, and local community members.
In addition to meeting new people, attending association-sponsored events will allow you to reconnect with former classmates and professors who have left SJSM to move on to bigger and better things. Talking with these past SJSM colleagues can give you a valuable glimpse into what lies ahead in your future career as a doctor.
Participation in Research Projects
SJSM is proud to have one of the most robust research programs in the Caribbean. Our faculty and students are required to participate in research throughout the program. Our Alumni are encouraged to offer their insights, act as mentors, or fully participate in research projects currently conducted by the school. This will not only enhance your CV, but will also be a great opportunity to give back to your alma mater.
Teaching/Guest Lecturer Opportunities
SJSM alumni love going back to the island in which their Basic Science campus was located. We often post teaching job opportunities on our campuses, whether in the full time or guest lecturer capacity. This is another great way to build your CV, but also a great way to tell your success story to the students. Similarly, in the clinical science portion of the program, we love to partner with our alumni who have their own practices to provide preceptorship to the students. This is a great income generating opportunity for your practice, all while providing educational opportunities to your alma mater.
Participation in the Board of Trustees
Another great opportunity to enhance your CV is to participate in the school's Board of Trustees. The SJSM Association has a dedicated seat on the school's board, and one member, selected by the alumni, will get an opportunity to sit on the board and have a direct impact on the future of the students in the school.
Referral Bonuses
As someone who has completed the program and found success afterwards you are SJSM's biggest brand ambassador. You will often come across someone who is aspiring to become a physician. SJSM offers very lucrative referral bonuses to our Alumni. As a member of the Alumni Association you will receive up to $2,500 per each referred student into our program.
SJSM Store Discount
Show your school spirit with the SJSM branded items. As a member of the SJSM Alumni Association you will receive awesome, exclusive discounts at our SJSMstore.com. We try to launch new products every few months, and our alumni are the first to be notified of the new product launches.
Grow Your Future with an SJSM Alumni Membership
Membership in the Alumni Association is free and open to all Saint James School of Medicine alumni. It is available to students who have attended Saint James School of Medicine for at least one semester. To apply for membership or for more information about the alumni association, you can visit the alumni website at alumni.sjsm.org.