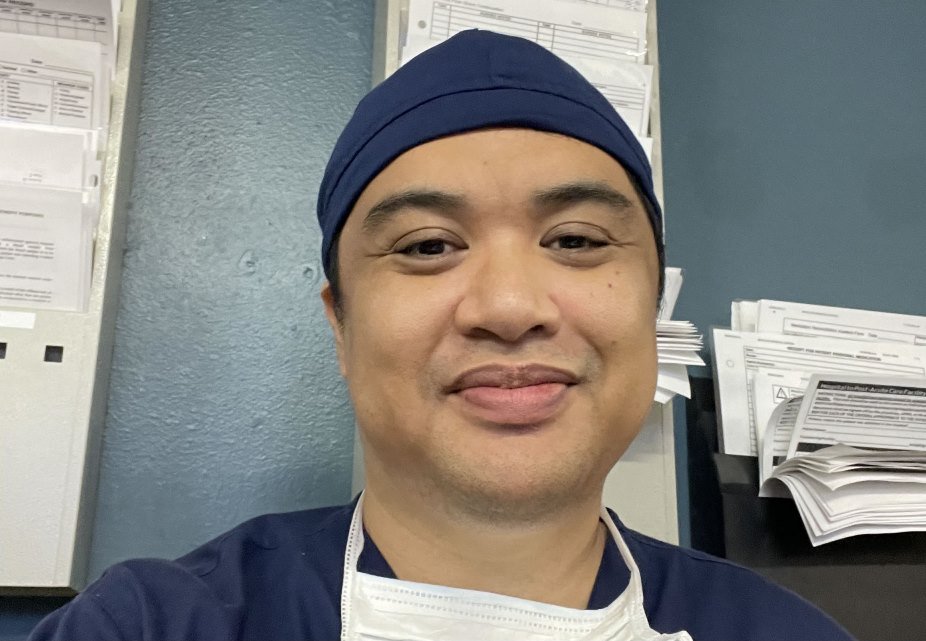 As individuals, what is the driving force behind our passions in life? Is it to follow in the footsteps of our loved ones or to redefine one's path with continuous education to better ourselves and those around us? As medical professionals, we continue to evolve, find new solutions to the problem at hand, and how to use compassion to better connect/understand our patients. That is why Saint James School of Medicine is proud to highlight Angelo Joseph 'AJ' Pascasio as this month's Student Spotlight.
AJ graduated from Emory University in Atlanta, Georgia with a Bachelor of Science degree with a double major in Neuroscience & Behavioral Biology and Anthropology & Human Biology. His passion for medicine drew him to Saint James School of Medicine; its affordability paired with its full accreditation status was the best pathway to achieving his career goals as a licensed physician. AJ's passion for medicine was instilled in him at an early age. "It's something I always saw myself doing," AJ said. "My family has a strong medical background as nurses and physicians and it just seemed natural for me to follow that path." While a career in medicine was never forced upon him, his family has always been supportive of his career choice.
After completing his Clinical Sciences, AJ chose to complete his Clinical Rotations at South Texas Health System, SJSM's affiliated core clerkship site, located in McAllen, Texas. Once he found out SJSM provided the opportunity to complete his rotations back home in Texas, he didn't have to think twice about it. Throughout our conversation he referred to South Texas as a literal frontier in medicine, saying,
"I was very surprised to see how much McAllen had grown since I last visited 10+ years ago. Everyone who has come down here, me included, was astonished at how many medical facilities there are in a relatively small town. McAllen sees a whole variety of people throughout the United States, and the world, with many 'Winter' Texans from northern states going south for the winter, as well as migrants crossing the border with a host of maladies.
In a way, McAllen has an 'outpost'-like feel to it. It's literally on the border next to Mexico and is about 2+ hours drive from the next biggest town. To me, the South Texas Health System serves as the medical epicenter for such a large area of the Rio Grande Valley. It's a metaphorical oasis of sorts that provides healthcare in an area that desperately needs it. I'm predicting that very soon there will be a large influx of people in the Rio Grande Valley because of its recent economic growth."
Throughout AJ's time within his ER rotations, he has gained countless insightful experiences that continue to shape and expand upon his background in medicine. "The biggest takeaway from the ER, especially being on the border, is trying to find creative solutions to problems you thought you'd never have to solve," said AJ. "I've been tasked with finding a 'solution' to what to do with a live bat in the ER at 1 AM on a weekend to helping coordinate with Border Patrol and Child Protective Services to identify the best way to care for a 2-year-old child while his mother is in emergent surgery for a rare disease. You learn to think critically to diagnose and quickly care for a patient while solving other complex issues as a steward of finite resources."
Currently, in his fourth year, AJ has just finished his STEP 2 exam and began his second round of Emergency Medicine rotations within the hospital system. Alongside his academic studies, AJ is in the process of applying to various Emergency Medicine Residency programs across the country. "I'm very open to where my career will take me," said AJ when asked about his post-graduation career aspirations. "I'd love to work in Emergency Medicine, as each day brings about a new challenge and you don't see the same thing. The idea of being prepared for the unpreparable seems like an exciting career path."
One of AJ's current passion projects has been the organization of the 2021 Miami Integrated Medical Conference, formerly known as the South Texas Emergency Conference, that is scheduled for December 19-20, 2021. Along with some other SJSM students, AJ will be running this medical conference with CMEs on a fully virtual platform, hosting a panel of 30+ medical professionals throughout the world with an expansive focus on world health. Last year's conference hosted 400+ attendees, and this year they are expecting much more.
SJSM provides its students with countless opportunities to succeed within their ever-growing career in medicine, and the first step is connecting them with the right mentors. "Many times, preceptors are involved in various types of research and government work," said AJ. "They're intimately involved in the community, especially in government agencies from local, state, and federal levels, and have asked us to help contribute to their work." Students are encouraged to develop a long-lasting mentoring relationship with their preceptors by assisting with ongoing research projects, as well as by visiting local residency programs to gain a further understanding of their individual programs.
Thanks to SJSM, AJ was able to pursue his lifelong dream of becoming a doctor – utilizing the resources that the school provided along his journey. "Saint James can open the door to a path in medicine, but it's your responsibility to walk through it", said AJ. "In my personal opinion, many students don't understand how much this school cares about our success and everything that happens behind the scenes to give us, the students, the best experience possible."
Just like any new opportunity, there will be a notable learning curve when you first start clinical rotations. That is why SJSM has cultivated a team of trained professionals in South Texas to help our students navigate their way throughout all aspects of life, from living situations to the flow of a specific rotation. For students interested in completing their clinical rotations at South Texas Health System in McAllen, Texas through Saint James School of Medicine, AJ's advice would be, "Try to keep an open mind on how different physicians practice medicine. You'll experience a variety of ways preceptors approach problems and cater to the patients' specific needs in the Rio Grande Valley."